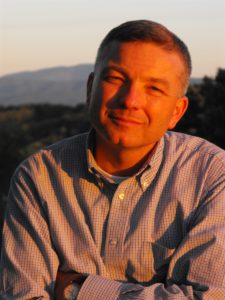 Talmage A. Stanley
A tenth-generation Southwest Virginian, Tal Stanley grew up in Dublin, in Pulaski County.  He is a writer of fiction, essays, history, and creative nonfiction.  He lives and works at Emory & Henry College where he is the Director of the Appalachian Center for Civic Life, Director of the College's Interdisciplinary Program in Civic Innovation (a BA degree program), and Director of the Bonner Scholars Program.  He helped plan and implement Emory & Henry College's Master of Arts program in Community and Organizational Leadership and is its director.
Tal graduated with a Bachelor of Arts in History from Emory & Henry College, magna cum laude.  He was a Woodruff Fellow at the Candler School of Theology at Emory University, where he earned a Masters of Divinity.  He earned a Ph.D. in American Studies in the Institute of Liberal Arts at Emory University, where he was a Mellon Dissertation Fellow in Southern Studies.
His book, The Poco Field: An American Story of Place, was published in March 2012 and is available from the University of Illinois Press. He has also written articles, reviews, and commentaries that have appeared in the Appalachian Journal, the Journal of Appalachian Studies, Practicing Anthropology, Studies in American Culture, Diversity and Democracy (publication of the American Association of Colleges & Universities), and various other academic and general interest publications. His essays on civic engagement and teaching for civic life appear in The Engaged Campus, Dan Butin and Scott Seider, eds, and in Deepening Community Engagement in Higher Education: Forging New Pathways, Ari Hoy and Matthew Johnson, eds. He is currently at work on another book, tentatively titled, American Road: Place, Racism, Resistance, and Civic Memory.
Tal and his wife Susan have two children.  He takes immeasurable pride in his family and their accomplishments.  He enjoys cooking, canning, cheese making, beekeeping, woodworking, working in his orchard, and gardening.  He takes inordinate, some would say delusionary, pride in his orchard of heirloom apple trees, bee hives, vegetable garden, flowerbeds, and flock of laying hens.
Connie Snyder Mick
Connie Snyder Mick is Academic Director of the Center for Social Concerns and co-director of the Poverty Studies Interdisciplinary Minor at the University of Notre Dame. Dr. Mick seeks to advance the vision of the Center for Social Concerns as a living well for social justice by helping to deepen the culture of community-engaged teaching, research, and learning across the university. She supports the scholarship of engagement through faculty consultations on engaged teaching, awarding course development grants, and directing the community engagement faculty fellows program.
Dr. Mick also directs the Community Engagement Faculty Institute, a three-day immersion into the theory and practice of community-engaged teaching, research, and scholarship. She currently teaches Rhetorics of Gender and Poverty, the Capstone for Poverty Studies, and Confronting Poverty: Bringing Service to Justice. Dr. Mick's research addresses the impact of engagement on student learning and community development, the role of writing in social change, the rhetorics of poverty, the ethics of storytelling in engaged learning, and the pedagogies of community engagement.  She published Poverty/Privilege: A Reader for Writers, Oxford University Press (2015). Her book Good Writing: A Rhetoric and Reader for Argument, Oxford University Press, is forthcoming 2018. Recent work appears in the Michigan Journal of Community Service Learning; Pedagogy: Critical Approaches to Teaching Literature, Language, Composition, and Culture; Service-Learning: Enhancing Inclusive Education; TESOL Journal; and Foundational Practices in Online Writing Instruction.
Michele Forman
Michele is a documentary filmmaker who got her start as an executive in feature films. As Director of Development at Spike Lee's 40 Acres and a Mule Filmworks, she was responsible for the acquisition and development of new projects, including New Jersey Drive, Girl 6, Sula, The Jackie Robinson Story, and Summer of Sam. In addition, Forman served as associate producer on Mr. Lee's Academy Award-nominated film 4 Little Girls, a feature-length documentary for HBO about the bombing of the Sixteenth Baptist Church in Birmingham, Alabama, in 1963.
Michele co-founded the UAB Media Studies Program in 2003 with the aim of using new media technologies to connect students with crucial community issues in the Greater Birmingham area. She loves teaching media and film history, as well as using the methods of documentary filmmaking, digital storytelling, oral history, and multimedia-based research to give students the chance to connect what they learn in the classroom with real-world experience.
Though she loves arthouse and non-fiction films, you can often find her checking out the latest heist movie at the multiplex.